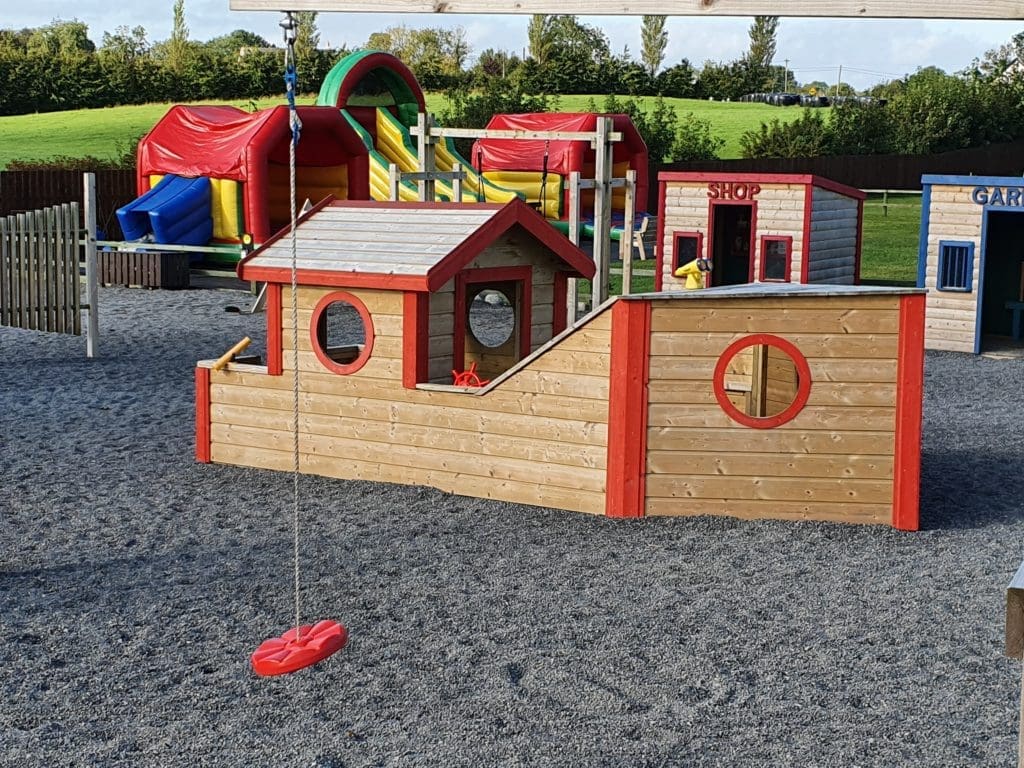 Our Summer Camps in Meath / Westmeath
Summer Camps Ireland
We aim to make the Summer Camp very interactive, educational and fun for children. These professionally organised Summer Camps offer a blend of outdoor and indoor organized activities to keep children stimulated and interested, while learning through play. Our award-winning centre is located on 3 acres of interactive fun educational activities, including many environmental care projects which have earned us a Green Flag award!
Outdoor Fun at Mellowes Summer Camps
Bouncy castle area, soccer skills, rounder's, sport challenges, coordination and balance areas, pedal go karting, mini golf, climbing towers, slides, swings, bowling, sand play, water play, Mud kitchen, egg and spoon/sack races and imaginary play areas.
Indoor Fun at Mellowes Summer Camps
Flower seed planting, gardening skills, environment care projects, reduce, reuse and recycle projects, fun nature trail, treasure hunt, t-shirt printing, Jewellery making, Lolly pop art, craft projects, smoothie making, baking, soft room play, cinema time, disco and talent show.
Age groups
3/5 years, 6/8 years and 9/11 years
Children must be toilet trained
Camp dates 2023
Monday 3rd July to Friday 7th July
Monday 10th July to Friday 14th July
Monday 17th July to Friday 21st July
Monday 24th July to Friday 28th July
Monday 31st August to Friday 4th August
Monday 14th August to Friday 18th August
Camp times
9am to 12pm. Monday to Friday.
Price
Bookings are non transferable and non refundable
Please Register after booking your Summer Camp
If you have booked you need to fill in our REGISTRATION FORM HERE.
Out of school NCS Scheme (National Childcare Scheme)
Out of school/Summer Camp NCS Scheme can only be used if registering for all weeks of Summer Camp in July and August
The national childcare scheme can be accessed by your child during the out-of-school months of July and August and may contribute to reducing the cost of childcare/summer camps. Summer Camps at Mellowes are packed with non stop interactive educational fun for your child. With governments NCS Scheme your child may be able to attend free….. The NCS Scheme can only be used if registering for all weeks of summer camps.
Introduced by the Irish government in November 2019 the NCS Scheme aims to improve child outcomes, support lifelong learning, make work pay, reduce child poverty and reduce the cost of childcare for families in Ireland. The scheme is available for children aged 6 months to 15 years old. This user-friendly scheme allows parents with a social service card to access the NCS portal online (www.ncs.gov.ie) enter their personal information under income assessed. The system generates a CHICK number for each child with up to 45 hours of subsidised childcare awarded. You are notified of the award granted per hour and this amount is deducted from your childcare costs. It is paid directly to our centre and parents pay the balance.
During school holidays parents can avail of 20 to 45 out of school hours and this is how your child can access our popular summer camps or out of School care.
This fact means that if a parent is granted a reasonable award all the summer camps being run at Mellowes in July and August might be free for your child or parent's may only be required to pay a small amount. This is fantastic news for parents for children attending summer camps at Mellowes. There is a dedicated government NCS helpline on 01 9068530 staff are friendly and supportive.