Mellowes Adventure Centre
Seasonal March to September (Saturday and Sunday only) 12pm to 5pm
Wednesday to Sunday in July/August 12pm to 5pm
School tours/Creche tours/Group tours 10am to 1pm
Summer Projects 10am to 1pm
Summer Camps 9am to 12pm
Mellowes Childcare Centre
Monday to Friday 8am to 6pm
Gift vouchers
Ideal for rewards/birthday gifts/surprise. Give a child you know something very special that all their family can benefit from. Making memories is one of the most important things a family can do together. At Mellowes we have something for all the family to enjoy.
Visits are fun, interactive, educational and enjoyable. Mellowes extensive outdoor facilities are perfect to treat a family to a surprise gift by purchasing our online gift voucher. You can personalise your very own message to a family. Our gift vouchers offer hours of family fun and give the children a chance to get active, keep healthy while having tons of fun outdoors
Christmas vouchers
Mellowes Christmas vouchers offer a magical gift to a family at this very special time of year. Our vouchers are the perfect Christmas gift because a family can have so much to look forward to when the Mellowes season begins.
Mellowes Christmas vouchers offer a family the chance to bond, have fun, stay fit and healthy and above all capture magical friendly photos at a very exciting children's adventure centre. A Christmas voucher to Mellowes is the perfect gift to give an entire family because they provide excitement and fun for everyone.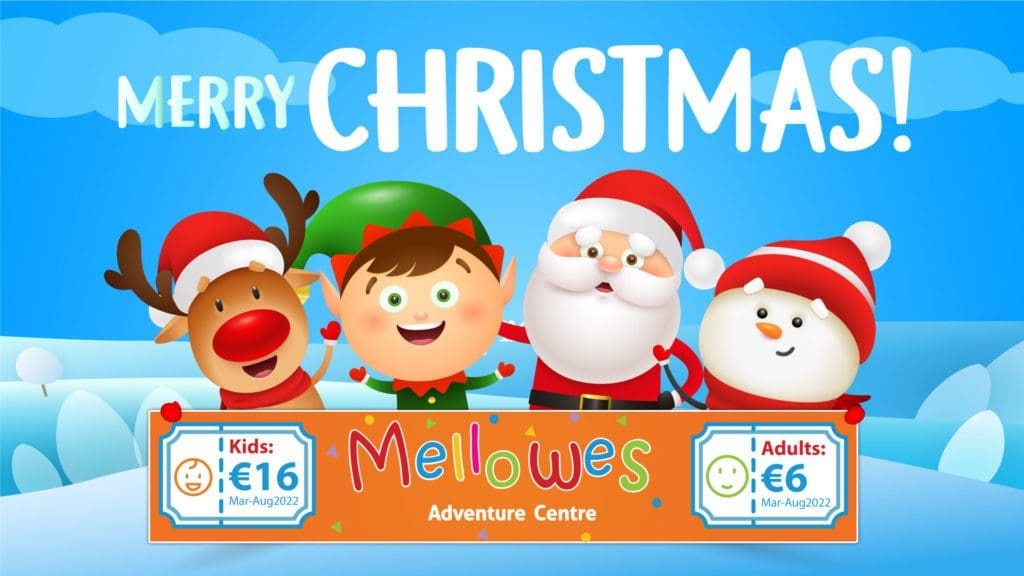 Jobs
We are always interested in talking to people who feel they would like to join the team at Mellowes.
We accept applications for our childcare centre from those who are qualified, bubbly, energetic, motivated and have a natural talent with children.
Send your C.V to us today and perhaps we may be able to work together in the near future
Mellowes Adventure centre employs staff who are sporty and wish to work in the hospitality sector.
If you think you would fit into our flexible, motivated team please send us your C.V and perhaps we can work together during our next season